Are the challenges that arise in starting a restaurant business something you can get over yourself with time and care? Or do you need a consultant to really manage it well? Consultants can bring to your restaurant specialized knowledge and can help your restaurant target customers. They also provide solutions and bring feasible restaurant business proposals to help you manage your restaurant business operations. They are rightfully called, "objective outsiders" because aside from the fresh ideas that they provide, consultants have objective point of view without a personal agenda to push.
If you have found yourself needing a restaurant consultant, here are important insights to consider. Always remember that taking no action is actually an action but just not a smart one.
Analyse the Need of Consultant
A successful restaurant business consultation needs analysis. This will help you identify which aspects of your restaurant business need improvement and what kind of strategy needs to be implemented. A restaurant opening checklist must come in handy to monitor which key areas have been met and which were not. It would then be easier to draft a consulting proposal from there.
Search for the Consultants
Just because a consultant does "everything," it does not necessarily mean it's true. First thing that you have to do is ask is: What is the consultant's area of expertise? What are his qualifications? How do they charge? And at what stage of the process will he exit? The purpose of getting a professional restaurant business consultant is to help you improve your business in a sustainable way. After which, you have to ask for a consulting marketing plan to improve your restaurant's operational plan. Your consultant will help you lay the foundation and lead you to the right ways to open a restaurant.
Make Sure They Have Real World Experience
Although we don't expect consultants to be total business "gurus" they have to have an experience of the real world at least. It is better to get experienced consultants to get either better or faster results. Your staff need extra-energy, focus and skills of an experienced consultant to help your business improve its performance.
Ask for Plan
The consulting plan will be your road map. No matter how much insights you have placed into your concept or how many people have assured you of its brilliance, you should write a consulting marketing plan. Another thing you need is a daily run-down on portion control to help you eliminate shortages and that's what your operational plan should cover.
Analyse the Plan
The involvement of your staff and all people involved in your restaurant business will not only help in the development of your successful consulting plan but it will assure awareness throughout the working parts of your consultation. Researching and analysing your consulting plan should help you identify your prospective customers, your restaurant's business strengths as well as the weaknesses and of course the potential. Part of the process is the restaurant P&L trend analysis that indicates restaurants costs and revenue at a specific period of time. Find restaurant break-even analysis spreadsheet here.
Select the Best Consultant
Once you are one hundred percent sure that you need a consultant, the search process begins. Start with a preliminary search. Referrals from your restaurant business colleagues will be a good starting point. Once you selected and screened all the finalists, ask for their written proposals then analyse the submitted proposals. Finally, pick the best consultant to perform the project and discuss the consulting agreement and consulting contract.
Location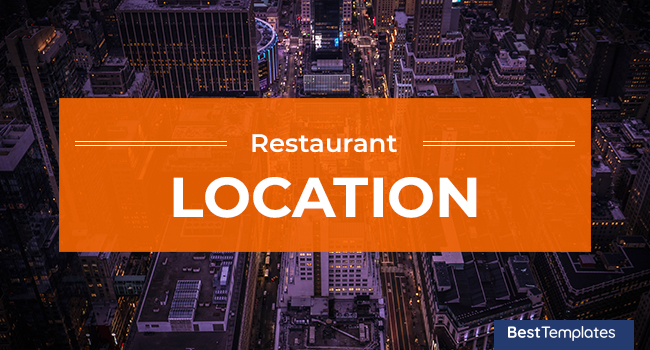 In choosing a best location, it is always advised to also ask your consultant about it. The consultant can help you set the criteria. The consultant is fair with regulations and potential issues concerning the location. Choose your location based on ideal demographics of that particular area. Having a consultant to help your restaurant business is valuable.
Concept
An experienced restaurant consultant takes into account market segmentation, and helps you understand customers' behavior, preferences and spending patterns. They help you manage with regard to the present and emerging restaurant trends and as well as in developing your restaurant concepts. Furthermore, they help you create and refine restaurant concepts for long term profit margin.
Staffing
Hiring and training your staff is probably one of the hardest aspects of running a restaurant. You have to consider a lot of factors when hiring a manager, chef, servers, dishwashers, hosts and bartenders. Hiring a human resource person can even be too much of a task too and will also cost you a lot. Hence, a restaurant consultant can help you set up the entire restaurant staff as well as train them. The intricate issues involved in hiring process will be managed as per the staff contract or maybe drawn by a staffing services firm through the staffing agency contract. Find staffing plan template here.
Menu Design
Your restaurant menu is a tool for persuasion and influence for your customers to order more. The restaurant menu can be a powerful tool if designed accordingly and if never executed in haste. To help you boost your restaurant's revenue, you can also hire a menu consultant. Redesigning your menu while incorporating basic menu engineering techniques can bring in great results. The consultant can also guide you accurately in terms of menu and recipe cost.
Financing
Your restaurant consultant will also help you analyse the performance of your restaurant within the parameters of profit and loss, cash flow statement, and both the cost of sales and labor. After data assessment, you as the owner can do an evaluation of your finances then establish systems and structures to keep your restaurant performing. If ever you want to move your money to some investments, do not forget to secure a financial services agreement. Find financial plan template here.
Interior Design
Here, both your restaurant consultant and your restaurant architect will have to take a look at the interior design proposal. This is to help you with your restaurant design and the entire restaurant building plan. The consultant's role is to generate a harmonious restaurant design plan. The interior design concept must create an atmosphere that puts customers at ease. Once everything is laid out, it's time to draft an interior design contract.
Marketing
Consultants also have fair understanding of the target customer base and can help come up with the best marketing strategies both traditional and digital to attract and retain customers. You can ask your consultant to come up with a strategic marketing plan suited for your restaurant. The consultant can even help you with the drafting of the digital marketing plan.
The role of each restaurant consultant varies. One may provide expert advice on concept, design, finance and location. Others can help you with menu engineering techniques and other factors related to the success of your restaurant business. Find restaurant templates  & documents here.