When establishing a restaurant, one thing that you can't afford to neglect is the accounting side of business. There are a lot of things that you'll need to cover on this end, such as a profit & loss analysis and various others. Ensure that no template gets forgotten by coming up with a restaurant account checklist. The objective of this article is to break down all that you may need and then some.
Templates for All Your Restaurant Accounting Needs
Unless you have a background in accounting, many of its term may come off as a bit confusing. An accounting term sheet should come in handy, for both the experienced and those who are new to them. A familiarity with the terms can make finding the right accounting templates a much easier task. Listed below are a few things that you may want to keep track of.
Financial statements presents results of your company's finances and operations. For many companies, there are at least four statements that are considered necessary. These are the income statement, balance sheet, cash flow statement, and statement of changes in equity. Before getting into a bookkeeping agreement with a professional bookkeeper, feel free to look into these different statements.
Download Now
This is how employees can itemize their expenses when they ask their employers for reimbursement. From the standpoint of the business, it can help make sure that you are not reimbursing your employees anything beyond what is necessary.
Download Now
This financial statement is where you summarize all your revenues, expenses, and costs, normally for a certain time period. One look at this statement should give you an indicator on how well your restaurant is doing. It is also referred to by names such as 'income statement,' 'statement of operations,' and 'income and expense statement.' MISSION
Download Now
A mission statement is basically the stated purpose of your business. It also identifies its scope of operations, which includes the market, customers, geographical operational region, the products and services, and more. Knowing what you're all about can make your finances a lot clearer.
Download Now
This is the financial statement that tends to show how the changes in your balance sheet can affect your cash and cash equivalents. It then breaks down the analysis into investing, operating, and financial activities. Getting in deep into these statements may involve the use of a cash handling policy template.
Income Statement Quarterly
Download Now
This is what reports your restaurant's financial performance for the year, divided by its quarters. It takes a good look at your revenue, the cost of your goods and services, how much your expenses are, and the costs of administration.
Coming up with budgets is incredibly important for restaurant owners. There are several types of budgets that you can plan for, so you'll need to take a look at the following templates. Having a thorough understanding of these budget variations will help you avoid financial catastrophe in the future. Due to the sensitive nature of these documents, business owners and bookkeepers, accountants, and other professionals will need to sign a mutual confidentiality agreement.
Restaurant Capital Budget Template
Download Now
This helps you in determining how much you should have for your capital. A template like this should provide you with at least three figures: 1) the cost of your restaurant, 2) the cost of the space per square foot, and 3) the cost per chair. It should also include professional fees, furnitures and fixture, organizational developments, signs and decorations, and admin expenses.
Restaurant Annual Budget Template
Download Now
This template helps you in estimating how much your annual budget is going to be for a specific year. With this, you can forecast your expenses and costs regarding ingredients, equipment, bills to be paid, and so much more.
Restaurant Payroll Budget Template
Download Now
This is what you'll need to look into when trying to come up with an effective payroll budget. Know that the average establishment tends to spend around 25 to 35 percent of their gross sales on payroll costs. This will also depend on what type of restaurant you are operating, so consider your individual situation.
The different worksheets that fall under sales and cost should also be found within your food service checklist. Take note of each of these worksheets as they will be quite useful in the multiple areas of restaurant accounting.
Weekly Cost of Sales Worksheet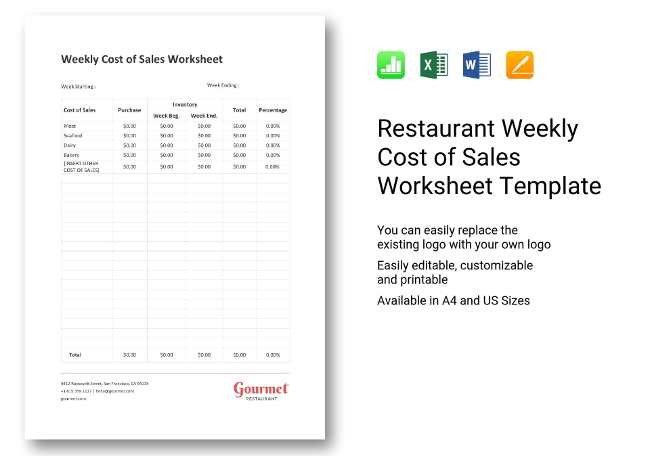 Download Now
It is here that you will be listing down any food and ingredient purchases on your part. Once everything has been entered into the worksheet, the total costs are added up for the week. A good use of this is to get feedback on your inventory levels and cost of sale. By knowing your costs on a more frequent manner, you gain greater awareness of how well you are stocking and carrying your inventory.
Weekly Prime Cost Worksheet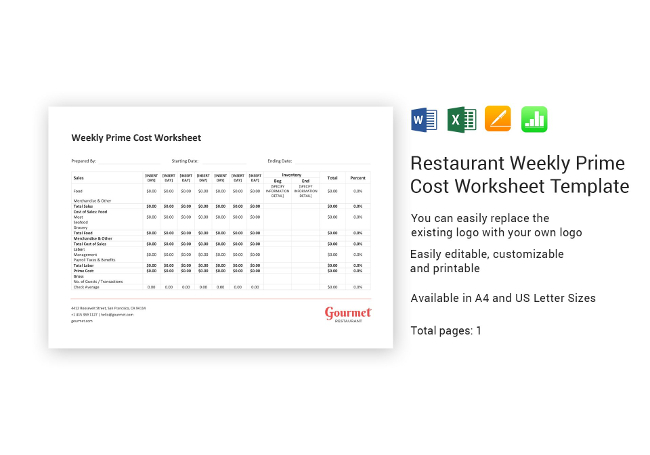 Download Now
This worksheet is used to track a restaurant's prime costs. Restaurant operators can see their establishments improve sales, purchases, and even smoother payroll and inventory managements.
Menu & Recipe Cost Spreadsheet
Download Now
In this spreadsheet, you can prepare a highly accurate costing scheme for virtually all items on your menu. Not only that, it can also help you with how much you are likely to spend on regarding your recipes. All you need to do is complete the setup then enter your ingredients.
Download Now
This can help you determine just how much your food should cost for specific meals. Knowing how to do this helps when it comes to pricing each of your menu items. It is helpful to include VAT when calculating for the price, as well as the profits for each individual menu item.
Recipe Costing Sheet Template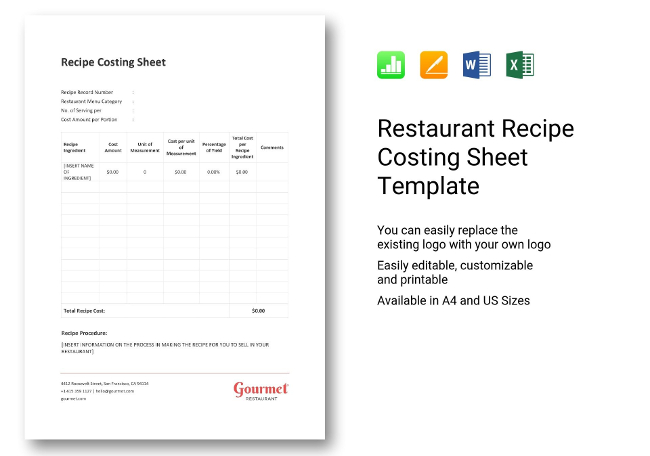 Download Now
This template can help in calculating the costs of your ingredients, both the main ones used and the extra ones that may be needed before long. Not only is this helpful for knowing what you will spend on ingredients, but it can also help in figuring out your utilities and labor costs.
Food Cost Tracking Template
Download Now
Having a food cost tracking template can help you in several ways. First, it can help you in taking your inventory. Next, it can help in the verification of credits and transfers. Another thing it helps you with is the verification of the pre-closing balance sheet for your inventory. Lastly, there is the checking of the posted inventory through the use of your excel spreadsheet.
Download Now
The basis of your analysis will vary from the actual amount of money spent to how much of the item you can successfully use. Know that ingredients spoil and a lot of times, portions that are much larger than what you calculate can leave your kitchen. Analyze your overall food costs often and stack it up compared to your total projects for virtually every item on your menu.
Start-Up Costs Worksheets
Download Now
Every new business needs a start-up costs worksheet to help in determining potential costs. Through this, you can better estimate just how much you are going to spend and how much money you'll need to even get started. Worksheets like this, list down all the necessary facilities cost, the equipment, materials, advertising materials, and initial supplies.
Buffet Cost Tracking Template
Download Now
This is a spreadsheet tool that can help restaurant operators in managing and planning buffets. User-friendly by design, it can help even the most novice of spreadsheet users to configure cost tracking systems with little to no problem at all. You can group items by category, track the ounces consumed, take note of customer consumption, and so much more.
An invoice can also be referred to as a tab or a bill. It relates to sale transactions, which makes it similar to receipts but with some key differences. For one, invoices are issued before the transaction. Receipts are only given after a customer has already ordered something. Another thing is that invoices are requests for the payment, whereas the receipt is already the confirmation of the payment. Below are the different variants of both that you'll encounter as a restaurant owner.
Download Now
This is the written request that people tend to make for highly specific services or items. Another term for this is purchase order. Like other invoices, you can make use of office software to help you prepare such documents.
Download Now
A blank invoice is a something that you'll need to fill in with the necessary details. This is something that will come in handy once your restaurant opens and several purchases and orders will start coming in.
Download Now
A customer invoice is what you can describe as a binding settlement of owed amounts. In it, you'll find details regarding the customer and supplier, the invoice amount, as well as the terms of payment. This can also be referred to as a purchase order form.
Download Now
A tax invoice is what you would call a legal document that sellers submit to their customers. As implied by its name, tax is bound to be included in the invoice. Those whose business is under the GST system, this can work in a similar manner to standard invoices and can also be part of one's tax deduction checklist.
Download Now
For the food bill invoice, the information contained within tends to include the name of your restaurant, the invoice number, the details of the food or service ordered, and the amount paid by the customer. It is also referred to as restaurant invoice, breakfast invoice, lunch invoice, and various others.
Download Now
As the name says, this receipt template is currently blank and will need to be filled up by you before it can be used in any shape or form in your restaurant business.
Download Now
This is your customers' proof that they've made a purchase. It details what they ordered from your restaurant and how much was paid. A sales receipt is just one example of the many receipt variations that you are likely to encounter.
Download Now
This is what you would call 'proof of payment.' Such a receipt is not for you, but for your patrons or customers. Basically, this allows customers to be certain that their money has been received by the restaurant.
Download Now
These are for payments that are made by either cash, check, or even money order. A general cash receipt form template can also include an optional section: balance due. It needs to be signed in its 'received by' spot before it can be authenticated.
Download Now
This receipt variant is unique in that it is provided before a person even pays for the goods or service. Each item ordered is listed individually rather than just what your orders cost as a whole.
Naturally, balance sheets play vital roles in the accounting of your business. Here's a look at some variations and how they tend to differ from one another.
Balance Sheet (Word, Excel)
Download Now
A balance sheet is where your assets and liabilities are summarized. It can also include shareholders equity. It is through this financial statement that investors can gain some knowledge about what you own and what you owe. The formula it adheres to is 'assets equals liabilities plus shareholders equity.'
Balance Sheet Monthly (Word, Excel)
Download Now
The information found on a balance sheet pertains to a particular period. It is not uncommon for many restaurants to have sheets focused on their monthly performances.
Download Now
This is similar to the ones mentioned above, but the information summarized and written here pertain to the period of a single quarter only.
Other Accounting Templates
Here are the templates that do not fall into any particular category. Despite that, you can bet that they still play pivotal roles for your restaurant, and are worthy of greater inspection.
Download Now
This is a form that can help you in keeping track of all donations and redemptions. It is done through the logging of every commitment. Another benefit from this is that it can also help in anticipating future requests. You will be able to enjoy telling donation seekers about your monthly budget and how requests should be made only according to your policies
Release of Credit Information Form
Download Now
This provides the authority to release any credit-related info. Such information includes, but is not limited to: your credit, salary, financial, debt, banking, and tax information. Such an authorization is only valid for a specified amount of days.
Customer Count Tracking Template
Download Now
If you want a great tool that can help you forecast sales, then look no further than the customer count tracking template. Besides forecasting sales, it can also estimate labor needs and set up prep levels. All you need to do is enter guest counts every day or every shift. It automatically computes averages based on your trend history.
Perpetual Inventory & Ordering Template
Download Now
Streamlined ordering procedures can greatly help your restaurant. Same goes for solid inventory control. Through these, you can better maintain your cost of sales, as well as your product availability. After all, running out of a particular product is a surefire way to affect the opinion and goodwill of your guests.
Download Now
It can be unavoidable for your restaurant to pay cash for either products or services. Keeping it at a highly controlled minimum is achievable through the setting up of petty cash forms. This can include reimbursement forms and vouchers.
Business Deductions Checklist
Download Now
Having this checklist can help you find common business expenses to be deducted from your taxes. Your list can include employee wages, advertising, utilities, licenses, permits, supplies, accounting fees, and so much more.
Payroll Hours Confirmation Log
Download Now
Know that having an inaccurate payroll can easily cost your restaurant a lot of money. Having a payroll hours confirmation log is a great way to ensure that there are as little payroll discrepancies as possible. Make sure your employees sign the log whenever they receive their paychecks.
Tips for Restaurant Accounting
Even with knowing all the templates and terms, there's always room for practical advice and guidance. These tips will help make sure that you are one step ahead of trouble. Make sure your restaurant accounting goes smoothly by considering the following:
Go to those who have prior experience with restaurant accounting. You don't have to take everything their way, but you can take their insights and suggestions into consideration.
Prevent financial anxieties by being as precise as possible. Don't round things off and record all revenue and expenses of your restaurant. See What You Need to Track: Some examples of these are your sales, orders, payroll, and value of inventory. Determine how they affect business and act accordingly.
See What You Need to Analyze
Ideally, there are things you'd want to analyze on a deeper level. These are the food cost, labor cost, inventory levels, and lease percentage of sales.
Pay Close Attention to Your Taxes
Remember that your restaurant sales also count as retail sales. This makes them subject to both state and local tax.
Having a profit and loss statement can keep track of revenue, operating expenses, labor costs, and food costs. It also keeps all the information in a single organized document. Make Use of Restaurant Accounting Software: Make things easier for yourself and use restaurant accounting software. This not only helps in organizing inventory counts and transactions, but can also help in managing sales reports and payroll.
Going through all these restaurant templates & documents is necessary for the success and growth of your establishment. With familiarity of the different terms and forms achieved, you should now be better equipped to run your restaurant to the best of your abilities. If there's anything you might miss, feel free to check the list again. Luck goes hand in hand with success, but only if you come prepared as best as you can.