Before the recession. starting restaurant owners got their capital from the U.S. Small Business Administration or through personal loans from the banks. Since then, banks have cut back on small-business loans. This has left restaurateurs looking for other options to finance their restaurants, be it borrowing from individuals or crowdfunding. A gutsy few sell everything they have and use personal funds for starting a restaurant business while others seek out business partners to invest.
There are a variety of options to raise funding for restaurant business. One way is to tap into your own resources.
Location
You should not get carried away with any one location until you have done your research. Another important consideration is to keep the concept and budget in mind while you choose a location that matches your concept to strengthen your brand. In choosing a perfect location for your restaurant, the cost of the entire site must not exceed more than 10% of your revenue.
Lease or Rent
A leasing space for a new restaurant offers many benefits, including lower start-up costs than a mortgage and building overhead costs. However, just because you don't own the space doesn't mean you should agree to any and all terms of a lease agreement being presented. The cost of rent, the length of the lease and the fine print of who pays for what should be clearly stated on the agreement.
Interior Design & Equipment
Once you and the landlord have come to an agreement, make sure that a plan that allows for unexpected repairs is written in the rental agreement. You'll be needing an interior design proposal as 30 – 40% of your total budget is allocated to furniture, fixtures and equipment. The rest of the budget is reserved for construction or leasehold repairs, improvements and contingency. Equipment lease is also an effective way to access expensive items that your restaurant will need. Just in case you decide to purchase or sell equipment, you need to secure equipment bill of sale document.
Sales and Marketing
Arron Allan and Associates Global Restaurant Consulting said, "A typical restaurant should have three to six percent of sales to marketing. It's also a good idea to allocate this money proportionally to your sales volume. If July is your busiest month, you should spend a proportionate amount on your restaurant's marketing budget in that month." You should invest a bit of your monthly budget into newspaper, local radio ads, extra "Grand Opening" signage and fliers to pass around town. There are various Cost Analysis of Market Research Methods you might want to employ to calculate your return of investment.
Food Expenses
It's better that you reach out to local farmers and cooperatives than to fancy food vendors. You have to establish relationships with several suppliers, and work with them to lock-in prices. You have to do the food cost analysis where you will evaluate your menu and recipe costs. It would be easier if you have the food cost spreadsheet ready too. This will help you streamline purchasing and preparation.
Technology
The daily cash audit form can be easily set up to manage and track all of your cash funds, including cash drawers, change funds,and petty cash. You will not be handling cash all the time, so it is important to have a log of the cash going in and out. This will give you something to compare the register tally to, as well as help you uncover if there are any shortages or overages at the end of the day.
Website
According to studies, 81% of people search the web before a restaurant visit. More than 80% of those who look up a restaurant online will visit the restaurant. To add more, about 85% trust online reviews as much as word of mouth recommendation. Hence, a website is a service, not a product. There is no "standard" hourly rate for website design. In fact, you can either use a free, do-it-yourself service, or you can buy a domain. Both can give you the results you want. The only difference lies in what you want to spend.
POS System
Point of Sale (POS) system is having a profound impact on restaurant operations, guest satisfaction, revenue growth and overall profitability. Mobility is not the sole reason why restaurateurs are upgrading their systems but also because of the growing need to entertain new payment methods, including chip-and-pin (EMV) cards and e-wallet apps. POS evaluation worksheet will help you organize and list many of the features that should be considered in selecting and evaluating a POS decision.
Style of Concept
In choosing a restaurant concept, additional technology investments may be necessary. Everything from restaurant Enterprise Resource Planning (ERP) system to revenue management software to digital menu boards may fall into this category. Deciding the style of concept will help you get a rough estimate in terms of supplies, space, staff and furnishings.
Operating Costs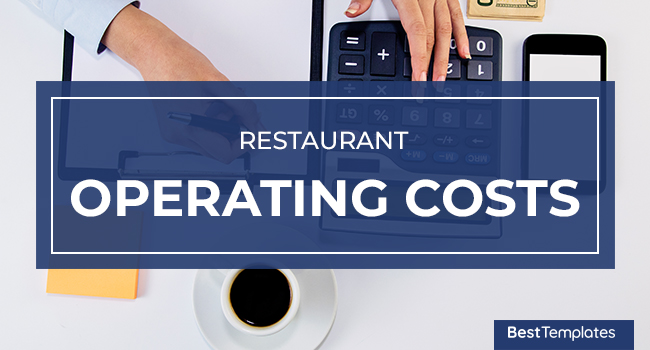 You have to keep track of both the operating costs and costs associated with non-operating activities, like interests on a loan. These costs should be accounted for in your restaurant books to allow you to determine how costs are associated with revenue-generating activities and whether or not your restaurant business is still running efficiently. Results can assist you in identifying areas, systems, or processes in need of modification to better control costs.
Legal Expenses
If your restaurant business requires contracts or is part of a franchise agreement, the startup cost for professional services including accountants and lawyers can rise up before its opening day. The process involves filing of papers with various state authorities in regard to taxes, licensure or restaurant business formations. Bank records, tax forms, financial analysis and pro forma statements are also part of startup costs.
While your startup restaurants have a multitude of expenses, it is important to keep some capital in reserve for unexpected expenses. As long as you create a budget and stick to it, you'll be able to handle the unanticipated items with ease. Restaurant owners can use financial analysis to predict your restaurant's success. Find restaurant templates and documents. A restaurant financial consultant can help you draft a financial forecast based on restaurant industry and segment standards.