Social media networks have become relevant in the past decade or so: From bands creating MySpace pages, to professionals seeking connections on LinkedIn, nobody can deny that the Internet has brought unlimited access not only to persons, but to resources as well.
Social media in itself has become a catch-all term for numerous websites that provide individuals and businesses with social interactions. Today, people use different platforms for different purposes, although many of them have been useful in startup businesses. For instance, Twitter became the destination to quickly update its followers in the form of short messages or "tweets," while Facebook can provide more detailed information with photos and videos, as well as longer status updates. Instagram focuses solely on photos, while Google Plus is a more formal site that reaches out mostly to your email contacts.
Starting a restaurant business in this day and age has become quite easier, considering the wide reach of social media networks. However, posting on these sites will not be effective unless you have tantalizing restaurant promotion ideas that will grab the attention of your customers from the thousands of posts they see on a daily basis. After all, competition today dictates that marketing strategies can't simply rely on social media existence, but invest on focus and engagement with your audience as well.
Creating the right marketing strategy will let you win over your social media audience. However, it is important that you understand what you want to portray to the public: social media is not an automatic bot update: it takes careful planning to properly curate your network and brand, cultivating a look that will impress your audience.
How Does Social Media Promote Your Restaurant Business?
Unless you have been living under a rock for the last few years, you should have come across some form of viral post or video, whether good or bad. Some brands with viral ads include Nintendo Switch, Mentos, Nike, McDonald's, and many more.
However, social media promotes your restaurant business in far more powerful terms – people merely leave reviews and at some point, your profits begin to depend on your ratings. Reports have shown that many diners let reviews affect their decision to eat at a restaurant, so you have to make sure that your business remains active and socially relevant. If people can post scathing reviews of Michelin-starred restaurants and see them fail, you can bet that your small startup will not be safe, either. Therefore, it is important that you use social media properly in promoting your restaurant business.
Engaging with Customers and Influences
Social media marketing can help increase customer engagement and encourage repeat sales. By crafting catchy headlines, posting quality visual media and content, and focusing on social media presence, you can prompt readers to click your posts and inform them of the latest updates from your restaurant. Whether it is a new food item, a new promotion, or even a new gimmick that your restaurant is hosting, social media has become a handy and powerful tool to get exposure.
This will open your restaurant to a wide audience who are likely to ask questions or post comments, which you should respond to in a timely manner. This will show them that you value their feedback, and they will feel that they are important for you to respond to their queries.
Small business owners that need to establish and develop their foundations with social media networking because they need such marketing strategies to grow. Many small business owners start with social media because it tends to bypass the more traditional advertising models, enabling you to focus on your target markets.
Creating a following starts with sharing useful content and information, not necessarily a way to sell. By connecting with your audience and seeing what resonates with them, you can start developing your marketing foundation and refine your strategies over time.
In building the social marketing network of your restaurant, you may want to start by offering something of value to your audience. Establishing your expertise in the subject and providing useful content will grab their attention. You should also listen to your audience in order to develop your business further based on audience feedback. From there, you can work smarter and better as you let your social media following grow and help accomplish your goals.
The free online platforms of social media allows you to connect to your customers. Networks such as Facebook, Twitter, Instagram, LinkedIn, YouTube, Google Plus, and many more allow you to create content that your customers want to read and interact with, thereby increasing the awareness of your brand.
It is important, however, that you create good quality content because in this day and age, content is king. Simply put, the more interesting and well-written your posts are, the more they want to share and interact with it, keeping it relevant to a vast number of people.
One of the most common strategies to increase awareness is to sponsor a giveaway. This is effective in gaining followers, especially if you offer incentives for "likes" and "shares". The giveaway does not necessarily have to be big – you can simply offer gift certificates in small amounts or offer appetizers or desserts. By doing so, you can boost brand awareness, gain followers, and reach potential customers. However, make sure to read up on the rules for contests and giveaways not only for each of the social platforms, but for the local area as well.
Researching and Considerations
Social media websites have become popular in terms of research because they are able to provide more opportunities and challenges. However, there are also common risks that are inherent in social media research and you should consider these risks in your own protocols. The most common research approaches in social media include observational research where you merely observe the content created and posted, interactive research where you access content and require permission from users, and even surveys and interview research that need participants.
However, these approaches have legal considerations, most commonly those that involve invasion of privacy. While the right to privacy has been outlined in the Fourth Amendment of the United States Constitution, the courts have held their own interpretation of "reasonable expectation" of privacy.
After doing your research, it is also important that all your posts are carefully planned and curated. This, considering the content that you post on your social media platform to will track more valuable insights from your audience, and will help with customer engagement.
People around the world spend numerous hours on social media, making it a critical part in customer conversion. However, it is important to connect your social media and traditional platforms by retargeting your audience.
Social media retargeting works by reintroducing your customers to food and products that they are already interested in, and encouraging them to return to your networks or websites that will lead them to finally go to your restaurant. Facebook and Instagram, in particular, have made it easier for marketers to retarget their customers with the use of cookies and a variety of ad formats available.
To illustrate retargeting, imagine that you have a consumer, Jill, who looks up your restaurant via your website. She clicks your menu and checks reviews, and clicks on the items that are particularly appealing to her. She gets bored and then moves on to checking her social media accounts, where she scrolls through her friends' updates. However, retargeting continues and your products show up via recommendations or sponsored posts on Facebook, or via suggested post on Instagram. She clicks on these posts, clicks, and is linked back to your website's product page, where she makes a reservation, places an order, or finally decides to dine in at your restaurant.
Responding to Online Reviews
Not all reviews on social media platforms will give you five stars. In fact, no matter how excellent your food and service is, there are some people who post reviews specifically only if they have something to complain about, and you should be ready to handle them, no matter how scathing they are. If done properly, you can use both positive and negative online reviews to boost your social media marketing strategies.
Businesses who know how to respond to customer reviews develop a meaningful relationship with their customers and create an opportunity to show your potential customers that they are important. Research shows that 78 percent of consumers feel that businesses that are responsive to reviews tend to care more about their customers than those who don't respond at all.
In writing your responses, you have to remember that you are establishing goodwill, so you have to respond with care by staying polite and keeping our responses professional. The ability to have grace under duress may impress even your harshest critics and give your business a second chance by taking the opportunity to address their issues and resolve it as you see fit.
Thanks to the location features on Facebook and Instagram, it is easier for people to tell their friends where they are currently at. With the majority of people trusting online reviews as much as personal recommendations, these check-in features result to free advertising and increased brand awareness – a free endorsement from a social media user. This is why more check-ins garner more social media presence.
You can offer your customers check-in deals such as discounts or freebies, so that they will be encouraged to share word about your restaurant to the public. However, before putting out your deals, make sure that you research on the costs to ensure that you will not devalue your menu, or overspend for the promo.
Showing Behind-the-Scenes Content
This may seem silly but there is a lot of value in showing behind the scenes content to your consumers. Specifically, it humanizes your company by showing your fun and quirky personality that can garner affection from your potential customers. It will also show the love you have for your team and even show that you make mistakes but learn to push through it to serve your customers better. This will help build relationship and trust to your audience, potentially leading to lifetime returns and customer loyalty.
Despite the numerous businesses that your customers tend to be loyal to, people still crave human connections and will want to do business with friends and support businesses that they feel they can relate to. These often funny, humbling videos and content can lead to more action such as liking, sharing, and commenting, thus increasing your social media presence even more.
Social media thrives because of the people involved in it. By participating in social media networks, individuals position themselves as influencers, which is why it is important for you to engage your audience. This is why you have to be as real as you can with people by creating a two-way dialogue with your followers and foster a social experience with them.
Social media networks thrive because of these interactions and as a marketer, you have to take note that the key word is NETWORK. Build network connections by being interactive so that you can create better relationships with our potential customers. Building social media communities include participating in forums, commenting on posts, and connecting with new prospects. The world is yours when you learn to interact and build your social media network and community.
Morgan Stanley estimates the food delivery industry to be a ten billion dollar business, and it is still growing. Because of this, startup restaurants are becoming eager to establish themselves as the go-to for food deliveries. With food delivery apps such as Seamless and Postmates becoming more popular, it is important that your restaurant business also provides easier ways to reach your customers, even those who don't want to go out to eat.
Online food ordering via social media networks and apps significantly expands your customer base and boosts your stream of revenue, making you visible to clients. Easy-to-use features such as online ordering systems increases your chances of boosting sales and increases your profit margins because people love ordering food online for ease and convenience. Be honest, how many times have you wanted to go out to eat but are just too lazy to get dressed, especially when you're sick or tired from a long day at work? Simply put, give people what they want – convenience.
Facebook Marketing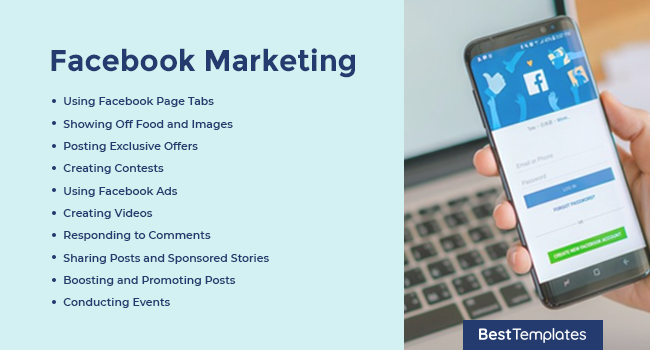 Even though it seems that fewer people use Facebook compared to its heydays in the early 2010s, this social networking site still continues to be the reigning champ – even more so than Twitter or Instagram. In fact, Facebook has become a meeting place not just for friends, but for businesses who aim to market themselves by interacting with customers as well. Here are some ways you can make use of Facebook to your restaurant marketing advantage:
Facebook Pages are used heavily on the site as a way to promote major brands, celebrities, and organizations. These tabs, which are available for pages with over 2000 fans, have custom page tabs as customized via the Facebook platform. However, they are only available for display on a web user interface platform, and are yet made to be available on mobile.
Your restaurant business can make use of this feature by adding tabs for menus, email signups, reservations, and even redirect links to online orders.
Showing Off Food and Images
As a restaurant, you can take advantage of Facebook's timeline format to show off photos of the food on your menu. Food porn is a real thing in social media world, and showing off beautifully plated dishes will surely interest your followers. If properly done, scrumptious looking food will translate to restaurant and food sales. Keep your page active with great photos and articles especially curated for your audience.
When posting on Facebook, it is important to be visual. Using more images and videos will work well as a marketing tool because as many as 40 percent of people respond better with visuals. Content that contains images get more than twice the amount of engagements.
However, you have to make sure that you have the right size of photos for the content to display correctly. Make sure that each of the photos you post are at their optimal size. Facebook also has size requirements for for their visuals, such as cover photos for events and ads, so you may want to follow the following 2018 reference guide for best image sizes, not only to show off your food, but other marketing-related images as well. These details change with every new update, though, which is why it is necessary that you find the latest information regarding Facebook's image sizing:
Profile Photo: 320 x 320 pixels
Cover Image: 820 x 312 pixels
Link Image: 1200 x 628 pixels
Shared Image: 1200 x 630 pixels
Sponsored Post Thumbnail: 254 x 133 pixels
Post Image: 1200 x 900 pixels
Event Image: 1200 x 444 pixels
Event Post Thumbnail: 254 x 143 pixels
Mobile App Ad: 1200 x 628 pixels
Dynamic Product Ads: 1200 x 628 pixels
Offer Claim Ads: 1200 x 628 pixels
Canvas Ads: 400 x 150 pixels
Facebook Offers is another marketing strategy that allows businesses to post offers such as restaurants or store discounts on their page, for in-store and online offers. With the help of promo codes and exclusive discounts, it is easy to post exclusive offers to help increase your restaurant sales and revenues.
Your Facebook offers should grab the attention of your customers. According to Facebook, it is essential that in offering discounts, you have to make sure it is at least 20 percent off the regular price. Offering items for free in addition to a purchase also tends to perform better than discounts.
Simple offers also tend to work better than complex contests. Define your terms and conditions as simply as possible and avoid unnecessary steps for your customers. Longer forms to fill up will likely put them off from taking your offer.
Use clear images that will attract the attention of your followers, with natural and direct headlines to avoid confusion. As it is with offers, you have to set reasonable expiration dates to leave your potential customers time to claim your offers. This will also be a great time to engage in word-of-mouth marketing as it will leave time for your customers to talk about and promote your offer.
Creating Facebook contests and sweepstake can usually help increase brand awareness. However, they are not usually hosted through Facebook itself. This means that you can't ask for likes or comments as contest entries and will have to use third-party apps to create your promos. Your Facebook page will merely serve as host that will redirect your audience to your website.
Facebook Ads has become a tool for small businesses who wanted to promote themselves to specific target audiences. This classic form of advertising appears with a headline, an image, and a click-through link to the business page, app, or third-party website. With Facebook Ads being implemented as part of your social media marketing campaign, you can certainly drive up your website clicks, thanks to its business-friendly features.
Facebook advertising has features that targets certain demographics of users based on age, location, education, and even interests. It also has the ability to set ad budgets which ensures that you don't go over budget on your marketing. It has an ad testing feature that allows different ad versions to run at the same time in order for you to compare which design and setup works best. Finally, Facebook has ad performance measuring tools to show you how many clicks your ad has been getting, and show you whether or not it is successful in its goal.
The ability to use Facebook advertising to gain more followers on your business page will also result to more interaction with your brand, forming customer relationships that may be translated to conversions in the long run.
Billions of hours worth of videos are viewed on Facebook every day, and it keeps growing as the social media network continues to grow. In fact, Facebook video has become one of the top priority media for marketers in 2017, which means that marketing professionals have studied how to make them effective in terms of shares and engagements.
With the constant changes being made in the site, Facebook now utilizes square videos so it is important to have a Facebook-specific copy for your marketing video. Attention spans are also shorter online, so it is imperative that you catch people's attention within the first three seconds, with eye-catching titles and captions. Most importantly, you have to include a call to action in order to engage your audience.
Featuring videos on your Facebook page will also showcase your posts to those who are interested in watching them and use insights in order to understand which videos could generate the most engagement. Among the things you could check on insights include video average watch time to make you understand at which point your audiences drop off so that you can create better content in the future.
Learning how to respond to comments properly will surely increase your audience engagement. Even though you feel that you have the best food in the entire area, fact of the matter is that people don't want to hear about your products all the time. You have to be able to keep them engaged by creating content that is not only relevant for your business, but personal for your customers as well. It is important that you create a two-way conversation between yourself and your audience.
There are four broad categories for Facebook comments: Positive comments that thank you and your restaurant for the great food provided to the commenter; constructive negative comments that criticizes your company for the flaws of your product or service; disruptive negative comments that gives you non-constructive insults and nonsensical posts designed to simply interrupt conversations; and spam comments that have links or mentions that is unrelated to your brand.
There are ways to handle each of these comments, from simply thanking positive commenters for their input and inviting them to return to your restaurant, to replying to constructive comments and by taking action in case it's needed. You can delete spams and disruptive comments as well as the commenters to provide a cleaner page for your restaurant.
Sharing Posts and Sponsored Stories
sponsored stories show your interactions, such as likes, to your friends and fans. Unlike other Facebook promotions, sponsored stories use a marketing concept that is similar to word of mouth. For instance, if a person sees that his friends like a certain page, he is more likely to pay attention to it, as becomes more inclined to take a similar action. Sponsored stories appear not only on your followers' news feeds, but on the right side bar of each person's Facebook page as well. Not only that, it is the only ad format made available on mobile devices, making it more effective in creating traffic to your page or website.
According to Facebook, Sponsored Posts and Stories have a whooping 46 percent higher click-through-rate from social media users, and a 20 percent lower cost per click than regular ads, making them stronger business marketing strategies.
Boosting and Promoting Posts
You can boost your posts by paying for Facebook Promoted Posts, which allows you to pay a flat rate to have your posts reach large numbers of users, increasing a post's reach and organic impressions. Promoted posts increases your chances of being seen on your followers' news feeds, reaching not only your existing fans, but their friends as well.
Promoted Posts are particularly easy to create – simply click the button that appears beneath your page posts.
Make it easy for your followers to keep up with your restaurant events by creating an event page listing. Whether you are planning to have acoustic night sessions at your restaurant, or offering a themed meal one night a week, these event page listings pave the way to encourage networking before the actual event. It also makes it easier for you to spread word of your event to your fans and followers by making it easier to share. Facebook has tools such as targeted news feed ads and event insights that will measure the effectiveness of your event ad. This makes it easier to update your followers with details, from changing location, to reminding them of your event as the day nears.
By adding a profile photo or an updated cover photo to showcase your event, call-to-action buttons will also increase your social media presence not only for your followers, but their friends as well, offering you an even larger reach of audience.
Instagram Marketing
Instagram may be young as far as social media networking is concerned. However, since its launch in 2010, it proved to be able to take the world by storm, considering how it became a major platform for photos of not only people, but of their pets as well. With over 700 million active monthly users, it is a great way to promote your business – especially because photos from an integral part of this network.
Instagram has become a great avenue for growing brand awareness as well as for introducing products. Most of its users have spent time looking up brands on the platform, and it has allowed them to promote products in a friendly way without drowning customers in sales talk and advertising. However, with Instagram focusing only on photos and quick videos, it is nearly impossible to stand out – which is why you have to learn how to curate your posts and optimize it for your business.
If you want to create instant engagement with your audience, you may want to use interactive trending hashtags that will show your photos to the public. It will help you expose yourselves to a wide reach of audience who are using the same hashtags as you are as they search through all posts relating to the general, trending hashtag.
Trending hashtags continuously change, however, and a top 10 trend may come and go within a span of minutes. This is why it is important that you are updated with the comings and goings of social media so that you will remain relevant to your customers. When you see a trending hashtag that can relate to your business, engage with the public by using such hashtag, so that you can get your message across a wider reach of audience. Using only applicable niches will ensure that your post will be seen by like-minded people and therefore will target your audience accordingly. However, it is important to note that posting too many trends and too many hashtags will constitute as spam and is considered poor etiquette.
Using Campaign-Specific Hashtags
Creating a hashtag for your company can also essentially create free advertising. If your restaurant has a popular slogan or phrase, this could make your campaign-specific hashtag to expose your company further. Coca-Cola, for instance, gained more followers and engagements with their #ShareACoke tag.
Brand and campaign specific hashtags can be used to market your brand and promotions and can be used to define your business. By encouraging people to use them, you are marketing your brand and creating a short-term promotion specifically for Instagram users.
Your restaurant name can be its own hashtag. You may also want to use a tagline that people associate you with. It is important to keep your brand and campaign hashtag short and easy to spell so that customers can remember it and use it properly.
Campaign hashtags, on the other hand, will help you engage your customers, not only with your business, but with each other as well. You may even use campaign hashtags as requirements for your restaurant promotions and contests if applicable.
Keep your brand and campaign hashtags consistent and unique, and use it on all of your social media sites, including Facebook and Twitter. Campaign hashtags for social contests and promotions are likely to generate more awareness, thus maximize your marketing efforts.
Conducting Photo Contests
Instagram photo contests will give your feed its much-needed viral boost, especially when you're starting out. This is why businesses actually use interactive tools such as photo contests on Instagram. It's a great way to get real user-generated content that connects your consumers with your products.
In creating photo contests, make sure that it matches your goals. Photo contests require a lot of time and attention, so you will need to review entries on a regular basis. Photo contests are particularly advantageous for more in-depth brand experiences. It helps you capitalize on person-to-person marketing, and helps you recruit more brand ambassadors that will nurture your brand with you. Make sure that your photo contests are sophisticated and fun in order to keep your brand memorable.
As it is with business, it is important that your contest will not devalue your brand. Choose your prizes carefully by avoiding prizes that have nothing to do with your business. The purpose of your contest will be to promote your brand, so offering beauty products as prizes for a restaurant business will not be attractive to your fans. Make sure that the prizes you offer will interest your participants and customers. For instance, offering a free dessert for a limited time will probably encourage diners to try your food.
Choose a proper theme that you could require your contestants to gain the right user-generated content for your business. Instagram contests can easily be set up by using a campaign hashtag, so you have more in-depth tools that make it easier for you to set up your contests and marketing strategies.
Interacting With Customers
As it is with social media pages, interacting with your customers and followers is also important on Instagram. Take advantage of the site's business tolls and find a way to focus on the business side of your instagram profile. Add a business address, a phone number, and even an email address so that your customers can reach you if necessary.
If someone reaches out to you, use this to your advantage by commenting and even checking out their Instagram page and "like" a post or two. This will make them remember you because you made an impression on them, not just the other way around. Don't forget to include a link to your business website so that you can redirect your Instagram audiences to your business. Instagram offers clickable URLs on your page, so take advantage of this feature by creating quality content on your websites to encourage people to visit your restaurant.
Encouraging customers to post photos of your restaurant and using the geo tagging location feature will serve as free advertising on your end. Because people are generally very visual, having people post photos of your food or restaurant will encourage their friends, family, and colleagues to try your establishment as well. When customers see photos of regular people using certain products or dining at local establishments, they are more likely to follow the act because people trust those that they see. Besides, if someone sees a friend enjoying food at a particular restaurant, it is likely that they try the same restaurant the next time they decide to dine out.
You may also use customer photos on your own Instagram page – just make sure that you ask their permission first! Big brands like Anthropologie, GoPro, and AirBnB utilize such strategy to show just how effective their brands are, but make sure that the posts you use match your brand's aesthetic so as not to ruin your carefully curated account.
Food bloggers that utilize Instagram to promote their own websites will be of great advantage to you. They are fast becoming influences, so you should bring them in and impress them with your food. Food bloggers also tend to produce good content. With their strong following, they can essentially serve as advertisement for your restaurant via their blogs and Instagram accounts. Not only that, they tend to be experts at photographing food so you get quality Instagram photos from them as well.
Food bloggers are now steadily changing the game for restaurants because of the influence that they have on the local foodscape. If you're not convinced, take a look at the number of views food vloggers have on YouTube and the high engagement that they have for each of their posts. People like the late Anthony Bourdain, for instance, was known to change the world through his food adventures. These food bloggers and influencers have a voice. It's important that they have something to say about your restaurant in order to remain relevant in your local community.
Blogging has become a great online content marketing and branding tool because people trust them for accuracy. Make some effort in showcasing your restaurant by inviting food bloggers to dine and have them write posts about you on their blogs and social media sites.
Promoting Restaurant Involvement
The restaurant industry is crowded enough as it is, but it is important that you reach your target customers even in a highly competitive market. Community involvement especially allows you to expand your market to new audiences and even grow your brand reach by establishing a profitable and professional relationship in your community.
Promote your community participations on your Instagram page so that your audience will know where else they can find your food other than the actual restaurant. For instance, participating in food fairs and farmers markets will serve as a taste tease to the community and could intrigue people enough to visit your restaurant and try what else you have to offer. Community involvement will engage new audiences and introduce them to your brand, so you can use these relationships to make connections and turn your area into a tightly-knit community, at a low cost.
The followers that constantly like and comment on your posts can be useful as brand ambassadors. While you don't have to reward customer posts with monetary gains, you can connect with them by interacting with their posts as well. Encourage them to continue their activities on your page and offer them a discount code on a food or beverage item that they love ordering at your restaurant.
Doing this will make them feel valued, and at the same time, will help promote your business without being sleazy. This way, you will be able to build a relationship with your best customers.
Advertising Special Offers
Instagram has several ad formats for you to choose from, including carousel formats, single images, single videos, and slideshows. Simple photo ads can promote special offers through engaging images. Video ads have the challenge of creating 60-second videos to be delivered to the target audience. Shorter videos actually get maximum attention, and have the potential to go viral.
These ads will help drive awareness to your business and special offers, and drive customers to learn more about your restaurant. It also helps increase product sales. With Instagram's seamless advertisements, you can be sure to grab the attention of your customers scrolling through their accounts. Its less intrusive advertising format is likely to engage rather than annoy your target audience.
Instagram has the same advertising tools as Facebook, which enables you to set up and track campaigns easier. You can even track your instagram ads within the app, via an ads manager, or with the help of your Instagram partners.
Posting Good Quality Photos
Poor quality photos can have immense negative impact on customers and fans, even more when your focus is on food. Bad food photos look boring and unappetizing – qualities you want to avoid when you're in the restaurant business. It is important to take note that Instagram is a fully visual platform. Unlike Facebook or Twitter where you have text posts to interest readers, Instagram is all about the photos and captions come secondary.
Here are some tips to create better Instagram photos:
Have an Overall Aesthetic – before snapping a photo, you may want to think of what your overall Instagram aesthetic should be. It needs to complement your brand's personality and keep in line with your theme. Unlike personal accounts, you may not want to post photos spontaneously. Meticulously plan for your feed with visual planners that will plot your perfect grid for your business.
Understand Basic Photography – It will also help that you understand your equipment (especially if you think of using more than just your phone) and familiarize yourself with the basics of photography such as composition, negative space, perspective, and lighting. Because you're planning on posting them on Instagram, you may also want to shoot your photos at a "square" mode to best frame it for posting.
Explore Editing Options – While Instagram already has great filters and editing tools built into the app, there are other third-party apps that you may utilize to achieve a great look for your photos. Don't limit yourself to Instagram filters and adjustments when there are many more resources that you can use to create a gorgeous feed for your customers and followers.
Twitter Marketing
Twitter has over 300 million monthly active users, with a relatively young demographic, making it a great marketing platform. Simply come up with your Twitter handle, upload a profile photo, fill out a short bio, and send the first tweet. While starting a Twitter account is simple, growing the same account and turning it into a marketing tool can be more challenging.
Growing real following on Twitter needs a lot of engagement with your target audience. It is not enough to send out tweets whenever your restaurant is holding an event or adding a new item on the menu. Businesses use Twitter to share information and content, to drive engagement for promos and events, to interact and network with customers and consumers, and even use it for branding and public relations management – all of which require businesses to interact with their customers.
Here are some ways your restaurant can benefit through Twitter:
The limited number of characters allowed per tweet means that you have to be smart about what you post. However, it is this very reason that Twitter is a great tool for driving traffic to external sites such as your website or blog. By learning to write a compelling Tweet, you can engage more people into clicking your link to learn more about your restaurant business. Take advantage of this by adding links that would direct people right to your menu.
Similar with Facebook and Instagram, you should take special notice of the photos that you post on your Twitter timeline. People are usually very visual, so include photographs in your tweets as often as you can. You can easily integrate photos to your tweets from your smartphone, but as a business establishment, you may want to consider using cameras with better quality.
Twitter adds every photo you share to a gallery, the latest of which appear on your profile page. Instead of adding random photos, you can take advantage of this feature by sharing photos of your food in a way that it tells a story. Make sure that you make use of the basic concepts of photography to make your food look scrumptious and appetizing in order to entice more diners to visit.
Many businesses fail to use coupons on social media. However, you should not dismiss this strategy because you think it is too "salesy." Reports have shown that many people actually follow a brand on social media specifically for the special deals and offers.
People love feeling that they're getting something special and exclusive from businesses, so make use of exclusive coupons for your Twitter followers. The idea is to create a mysterious, "under the radar" promotion that will help build brand loyalty.
You may also offer free or discounted food off your menu to generate some buzz. While sales and free products can be scary, research has shown that giving away samples can spike sales in the short term and also increases brand loyalty on a long term basis.
Because of the massive online reach of Twitter, you may, however, prefer to have a short redemption period for your coupons. This way, you can drive short-term sales by giving your customers a sense of urgency.
Finally, you can hit two birds with one stone by asking your customers to send to a Direct Message to get their special promo or discount. This will increase engagement and at the same time build a personal relationship with your customers while you promote your business. This will surely increase traffic to your site and get you new followers for your brand.
The best way to expand your audience in Twitter is to use hashtags. Hashtags are used to identify common themes or topics, and are fast becoming identifiers. Creating hashtags for your business is great for marketing as it will help people find not only your company, but the conversation that surrounds it as well. This could be a double-edge sword, however, because it will show both positive and negative comments about your business.
Tweeting in a Timely Manner
Because of the nature of Twitter, it is important that you tweet in a timely manner, so that you can create an active conversation around your tweets. For instance, "live tweeting" will allow your customers to interact with you in real-time.
With push notifications available on smartphones, you can also keep up-to-date with your customers by knowing when people mention your business, or if you get retweets and likes for those that you send out. Speedy response is best for Twitter, so push notifications make it easier to keep track of audience interactions for your business.
The ability of social media to attract followers from all over the globe can be a good thing. However, sometimes businesses may want to focus on users in specific locations in order to achieve their goals. For instance, a small-town startup restaurant in the US may not feel the need to maximize their latest promo reach in South Asia.
Thanks to Twitter's geo-targeting feature, you are able to reach the audience that could best fit your scope of your business. This feature will help you reach specific audiences, whether at a local, national, or international level. Simply type in the country, state, metro area, or zip code that you would like to target. You could even choose to target by language in order to select users who understand specific languages.
Involving and Engaging Followers
Statistics have shown that marketers cite Twitter as their go-to network for engaging with their customers due to its fast-moving yet simple nature. While you can schedule tweets, you don't want your account to look like it is run by bots, so you need to be able to engage with your followers and customers. Engaging with them via tagging, re-tweeting, and replying immediately informs them that your business account is being operated by an actual human, so more eyes will take notice of your brand. Remember that writing thoughtful responses will give you more potential followers than leaving with a brief, one-word reply.
You could even choose to tag other brands and businesses to show some love for others in your industry, and in case they could give you a shout out, you could reach new audiences and gain more followers for your account.
First of all, what is a Twitter chat? Twitter chat is a public conversation that revolves around a certain hashtag. This will allow you and your followers to follow the discussion and participate in it. This strategy is particularly effective because it will give you more active followers. People who participate in them are the ones who tend to enjoy engaging with others in social network. These are the people who use Twitter to interact, so you could get replies to your tweets, and even re-tweets for your content.
Find chats that are related to your industry and target business owners and entrepreneurs to start a conversation on your own. Hosting Twitter chats will promote your social media presence, allow you to get instant feedback, and even create a community to offer support for your business. The most crucial part of your Twitter chat, however, is to brainstorm a short but completely unique hashtag. You also have to arrange a day and time that will work best for yourself and your audience to maximize participation.
If that's too big a step, you may engage by replying to other chatters. This means that for a time, the majority of your tweets should be replies to other people. Don't forget to mention them via their Twitter handle so that they will receive a notification regarding your reply. Also remember to follow up with your new connections so that there will be more engagement on your topic.
Once the Twitter chat is over, you should continue your relationship with your followers by creating a Twitter list. Add all the users you engage with and start retweeting or replying to their tweets so that you will maintain engagement with those that can potentially be your customers.
Creating Tweet up Specials
A Tweet up is a meeting of Twitter users in person. This is used as a slang for networking events organized by using social media, although it is most commonly used on Twitter. The key element in holding a successful tweetup is to have something that people are interested in, giving them a reason to visit your restaurant. Tweetups not only show your leadership and influence, it also gives you credibility as you expose your business to the public. By bringing people together, you can network your business and create lasting relationships with your customers.
Restaurants with spaces for large groups can choose to incentivize their Twitter followers by creating group discounts. Twitter enthusiasts tend to welcome the idea of meeting fellow Tweeters in person, so you can organize events for a good cause and organize a tweetup around it. Consider selling tickets to an event or donating a percentage of your sales to charity. Tweetups can be a good way to get people to take a look at your restaurant.
Google+ Marketing
Google+ may not be as popular as Facebook, Instagram, or Twitter, but it still remains to be relevant, especially in marketing. Google+ is great for SEO targeting, personal branding, and content sharing. The most important being that your posts gets indexed and shows up in Google search results. Google+ remains to be a powerful marketing tools for companies and influencers because sharing blog posts in this network will help in your keyword ranking and thus drive traffic to your website. Because it is owned by Google, the search engine ranks their social network higher.
Using Google+ will also put you on the same strata as major brands such as NASA and National Geographic, which use their pages to share stunning photos and content. By building up your profile, you can share news and content about your restaurant, and thus drive more traffic to your business.
Creating and Joining Communities
Google+ communities help businesses communicate and interact with their customers. With enough research and development in community ideas, it is important that you create them to connect meaningfully with your followers. Create potential topics that you want to be associated with your brand and assign a community for each to organize your followers.
However, it is important that your brand remains active in the community because your audience will want to see more information about your topics from the perspective of your brand. You may also choose to join other pre-existing Google+ communities to spread your brand's influence and build trust with your audience. Remember that all Google+ users can join a community, so extend your invitations on your websites, and even on your other social media accounts.
Search Engine Optimization will help your target market find you better, not only on social media, but on search engines as well. Embracing Google+ will help improve your SEO ratings and will thereby lead to more followers on your social media accounts. Google+ has search ranking benefits leading to more followers or translate to more sales.
Even people who do not have Google+ accounts will be able to find your page or business by using keywords on the search bar. You may even directly connect your Google+ page to your website so that you can help engage more followers to your page.
To build an effective marketing strategy on Google+, you may want to engage with the community via relevant conversations that are taking place. Build relationships with your personal page and from there, you may refer your business page content when appropriate. The search functionality of Google+ makes it great for building business referrals with people in your circle. Spending time to nurture your presence will boost your profile and increase your restaurant's overall online presence.
Using Google+ Circles for Connections
Google+ Circles is an effective way to connect with people and then share content with them. You can create circles not only based on friends, but on customers, business partners, and affiliates as you choose. When done properly, you can even use your Google+ circles to send tailored updates to large groups and avoid Gmail restrictions.
Google+ Business Listings
Google My Business is the most important feature of the network, especially for startup businesses that want to establish a local presence. Not only will it increase your visibility on the local community, it will also allow potential customers to get directions to your business via Google Maps and check out whether or not you have a verified business website.
Your listing will also make it easier for audience to find your photos and videos easily, and let customers leave reviews right on your Google+ page. This will increase your chances of getting more organic search results and show your restaurant information to the public. With mobile searches becoming more and more relevant, a Google+ business listing will make your business more relevant from an SEO point of view, and will lead to a more crucial turning point for your restaurant's online presence in the future.
Google+ has the advantage of having a "Pinterest Effect" on its photo posts. By this, it was found that using a photo image instead of a link for your posts, you get higher +1s and reshares. A full-sized, good quality photo proves better in capturing the attention of your audience.
In order to gain followers, you must first follow others. Then if someone follows you, remember to follow them back. Start adding people to your circles. Thanks to the different kinds of circles that you can add them to, you can easily put the people you're following in curated lists to make sharing and engagement easier. Follow as many people as possible as long as you think they are relevant to your business. To become visible to a larger group, join communities in your niche so that more people will engage with you, and ultimately, even follow you online.
Much like any other social networking site nowadays, Google+ also makes use of hashtags to help people discover your content, even those who are outside your circles, giving you a wider reach of audience. Google+ hashtags, although met with initial scepticism, have become an efficient way to bring more exposure and visibility to profiles, making it particularly useful for startup businesses that want to create a buzz around their restaurants and companies.
People's excessive use of social media can be utilized to your advantage. Remember that connections made to your potential customers are necessary to reach many of the requirements that form part of important restaurant metrics. With proper connections and loyal customer engagement, you can translate your social media marketing strategies into real sales that you will not want to miss out on.