Loyalty is not something you come across often. For restaurants, this is a boon to business that must be kept at all costs. Customers come and go, that much is a fact. Finding ways to make them come back is what's truly important here. Multiple restaurant promotion ideas can be raised and tested as you figure out how to run a successful restaurant business. If you're looking for a guide, then you've come to the right place.
1. Reward Them With Loyalty Programs
There are various ways to utilize loyalty programs. Exclusive perks like members-only items or events work quite well, especially if said items are of an undeniably high quality. Take note that it is not only the giving of rewards that draw people to you. How quickly rewards accrue is another thing that should be taken into consideration, along with the variety and how easy it is to track points.
2. Time – Sensitive Offers
Time-sensitive offers are excellent ways to keep people on their toes. Those who want to get their hands on these will have to pay close attention to you, so they can act whilst the offer still stands. Tactics like these are fun because they break the monotony. Offering products on specific seasons help create excitement for the particular time period.
3. Offer Cumulative Discounts on Selected Lines
Discounted prices can be seen as excellent rewards for loyal customers. Providing cumulative discounts on certain product lines would only be an improvement. You can do this once certain customers have reached specific spending targets. As an example, some may get 10 or 15% off the next item they get after spending $50. Such offers tend to encourage prompt purchases, although it is essential that you publicise this move. Neglecting to do so will only end badly for you.
4. Give Away Free Items With Multiple Purchases
It is a well known fact that people enjoy getting things for free. This tendency towards free stuff can be utilized to sweeten your relationship with long-time customers. Besides that, know that there are multiple other benefits you can reap. One would be the buzz it creates for your business. It allows potential customers to know what you are willing to do to reward continued patronage. In return, this buzz will generate more traffic, which is always good for business. Another benefit is how this tactic encourages feedback from customers. Some companies select first-time customers before having them participate in surveys or polls.
5. Team up With an Associated Business to Offer Reciprocal Discounts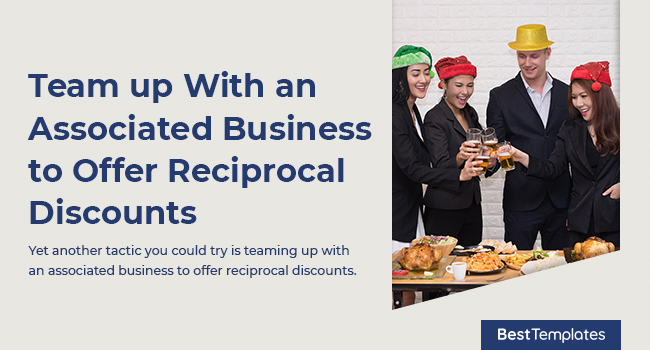 Yet another tactic you could try is teaming up with an associated business to offer reciprocal discounts. These cross-promotional events provide numerous advantages that can be too good to pass up. One would be the simultaneous promotion of the businesses involved. Another would be lowered promotional costs for the businesses, which is always seen as a win-win situation. Then there is the fact that this can be among the easiest and most successful of the marketing strategies that one can employ, making it a good choice for any business.
6. Invite Customers to Trial Developing Products & Services for Free
There's something about showing that you trust your customers that evokes a reciprocal feeling in them. Inviting a chosen few to test out products and services is enough to show how much faith you have in them. Being part of the development process can create a sense of ownership in your customers. Another benefit to this would be the higher sales due to word-of-mouth, which this tactic also encourages.
7. Hold Preview Evening
A preview evening is something you can organize to acknowledge certain customers as your best and most loyal. This would be an invitation-only event and those selected to be a part of it can partake in a myriad of activities. First and foremost would be for them to be able to make purchases, particularly of first time items. An event like this can also be a great time for networking with others or to just have fun. You can help give it a more exclusive feel by providing quality refreshments.
8. Offer Preferential Service Terms
Preferential service terms can be done to reward your best customers since those are the ones potentially responsible for large proportions of your profits. Rewarding them with special services or products is only fitting, considering their contributions. Said special terms may range from offering out-of-hours service to waiving the minimum order quantities. Either way, these terms are bound to please your customers and encourage others to step up their game so to speak if they want to receive the same kind of treatment.
9. Offer Additional Products & Services for Discount
One thing you can try to do is offer additional products and services at certain discounts. This is a tactic that works quite well if said services or products are associated. An example of this would be two separate food orders, which may go quite well with one another. Should your customers' order be particularly large, you may even want to include these extra products for no additional cost at all.
10. Reward Introductions & Referrals
Word of mouth is a powerful promotional method, that much is well known. Customers telling other people about your business means they're doing all the work for you and at no cost on your end. Should your products and services be deemed good enough, then you can bet this is going to happen anyway. If you offer rewards for doing so, then you can bet that people will be spreading word of your business more often. Reward customers with free gifts or discounts in return for introducing their friends and family to your business.
11. Give Your Customers the Opportunity to Give Back
As much as you may want to do right by them, your customers may want to give back to you just as badly. Indulging them in this can be mutually beneficial if done right. One way to do this would be to set up a volunteer program. Cooperate with other businesses or institutions in the name of a cause you care about. Then set up a way for your customers to participate. This will give them the chance to give back in the best way possible.
12. Make Your Customers Part of Your Brand
When developing your brand, it is always imperative to keep your customers in mind. It isn't always the easiest thing to accomplish, however. Consistency is the key when it comes to branding. Find some way to include your customers and what starts out as your brand eventually becomes our brand, at least from the perspective of the customers. As you share what you have with them, the relationship you have will surely improve and develop into something that is less one-sided and more three dimensional.
13. Invite Customers to Exclusive Events
Exclusive events are bound to be looked at with both curiosity and envy. Those customers who get invited to them will surely swell with pride, knowing that you think highly enough of them to do so. In turn, this will do wonders for their loyalty to your brand. There are a lot of perks you can reap from there. For one, you may develop a reputation as a business that goes above and beyond for their customers. Word of mouth will lead to more people patronizing your business, among other things.
14. Feature Your Best Customers on Social Media
With the strength of social media, you have a myriad of tools at your disposal to help strengthen your relationship with your best customers. One quick way to do so would be to snap a pic with your best customers and show them off on your social media accounts. Do that together with a special occasion, such as at a big event or when a customer makes a 100th visit or something similar. By showing them off, you show the world that you are proud and grateful towards your customer base, which can be quite flattering for them.
15. Send Gift Cards
Gift cards are a proven way to motivate customers into making purchases. One reason for this is its greater perceived value. Another would be the convenience it provides. It also doesn't cut into any of your profits and generates revenue in advance of any sales. The more you send gift cards to customers, note that you are also building up brand awareness for yourself.
16. Keep Them Informed
Keeping your best customers informed about any updates is not just a simple courtesy, but an effective way to reward their loyalty. Know that there are multiple methods you can employ. For broad audiences, your business website will suffice. However, if you really want to expand your reach, social media sites like Facebook, Twitter, and Instagram would be better suited to your needs. Resorting to emails, newsletters, and even text messages are just as effective and far more direct than previous options. As you can see, keeping customers informed does not have to be difficult provided you know which platforms and channels to utilize.
17. Remember Their Special Occasions
Being able to remember special occasions is the hallmark of someone that truly cares about others. Do this for your customers and they'll know that they're dealing with a business that is beyond the norm. If you are privy to their personal information, you may use it to prepare something for customers' birthdays or anniversaries. This makes what you do for them all the more special and it is guaranteed that not every business they patronize would do the same thing.
18. Collection Suggestions & Ideas
There should be no understating the importance of customer feedback. For one, it can lead to various improvements to your services, menu, and to the business in general. Then, there's the act of listening and accepting suggestions that goes a long way in capturing customer loyalty. After all, people want to feel like they are being listened to; like they can contribute to something that they care about. In collecting suggestions and ideas, you open possibilities to similarly beneficial interactions with your customers.
19. Reward Customer Feedback
Few things motivate customers like a wonderful incentive. There are various ways for you to reward your customers for whatever feedback they may have given. For example, restaurant owners may promise free dessert if customers promise to leave feedback once their meal ends. The idea of a reward is guaranteed to encourage customers to participate. You may also go for coupons that can be used at later dates or other prizes. Just make sure that the reward you provide is worth their time spent providing you with their useful feedback.
20. Offer Product Trade – Ins for Luxury Items
Product trade-ins are not often seen, but when they are, they tend to be for items that are not of the best quality. Doing so for luxury items, on the other hand, can be seen as a bold move that will no doubt enrapture the hearts of your customers. This will encourage them to participate and the results will leave them wanting more.
21. Send a Thank you Note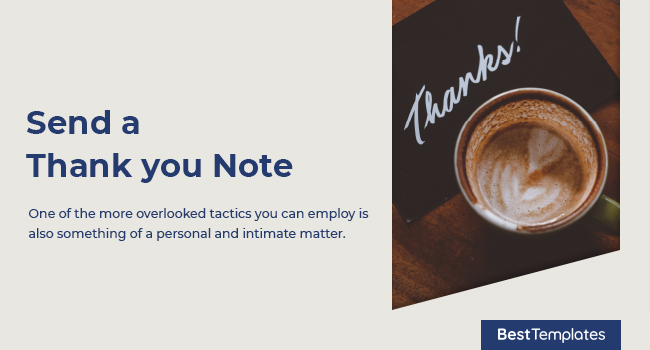 One of the more overlooked tactics you can employ is also something of a personal and intimate matter. A thank you note may not seem like much, but it is in its simplicity that its effectiveness is concealed. Most customers do not expect to receive something like this from the businesses they frequent, which makes getting one all the more special. It is a classy gesture and one that is guaranteed to be tremendously appreciated.
22. Plan Surprises
Think of cards, welcome phone calls, personal emails, and thank you notes. These are all surprises that you can gift towards anybody — be it a family member or a friend. To do this for a customer is something above and beyond what many would consider typical. You can expect your customers to love you for it, too. Beyond the touching stuff, surprises can also come in the form of insider access, gifts, coupons, and more.
23. Under – Promise & Over – Deliver
The tactic of under-promising and over-delivering is not overly complicated, yet it can have a huge effect on your business. Customers love to be pleasantly surprised, and what could be more pleasant than having your expectations exceeded at every possible turn? Too much under-promising might make you seem a bit underwhelming to customers, so don't overdo this. Pick your spots and employ this tactic sparingly.
24. Stay in Touch
Keep the lines of communications open and you will see results. It matters to customers that their favorite restaurants are approachable and willing to touch base every once in a while. How you go about doing so is up to you. It can be done privately through an email list, perhaps a newsletter, or you can try to contact the masses via social media. Sometimes, all it takes is to reply to Facebook comments to know that you fully intend to interact with your customers.
25. Offer a Simple Way to Pay
A good way to keep customers is to ensure that things are kept simple. This includes how they are to pay for their orders. When it comes to matters of money, complexity is hardly a good thing for your customers. Offer them simple ways to pay and know that this already goes a long way in keeping them happy.
As you can see, there are multiple ways for you to win and keep your best customers. It is all a matter of knowing what to do and putting in consistent effort. Feel free to try out and play with the suggestions above. See what works for you and make modifications as you see fit. Social media promotion ideas and other tactics are all encouraged, in the name of greater customer relations.