In the early stages of your restaurant business plan, you are expected to perform many types of "what if" analysis. Your goal is not only to achieve specific sales but also to hit certain cost targets. But how would you make it easy to organize and configure critical information generated by your restaurant on a regular basis? When starting a restaurant business, spreadsheets are helpful to help you forecast trends and assist you optimally in scheduling your labor.
It covers all facets of your restaurant from organizing daily sales and deposits data, to tracking actual versus ideal product usage of key inventory items and evaluation of the profitability of your sales mix. Spreadsheets are helpful in forecasting your weekly cash flows, as well as your daily and weekly sales revenues.
The information generated by these spreadsheets will not only allow you to produce accurate monthly financial reports, but also supports your efforts to proactively manage your restaurant business on a daily basis.
Costing and Expenses
There are various excel spreadsheets that will help you put together an estimate of costs and funding required to start your restaurant business. It is in fact pre-populated with expense categories that are very useful in helping you identify all of your start up costs. As you add your own costs or expense categories, the templates will help you understand whether you have adequate funding. The worksheet will help you track your actual expenditures to keep your costs under control.
Weekly Prime Cost Worksheet
Download Now
Use this to keep your weekly expenses in line with sales. This spreadsheet takes the "series" to its logical conclusion by capturing sales purchases as well as inventory information. The result calculates your restaurant's total food and beverage cost plus gross labor and as a percentage of the current week's sales.
Weekly Food & Beverage Purchase Log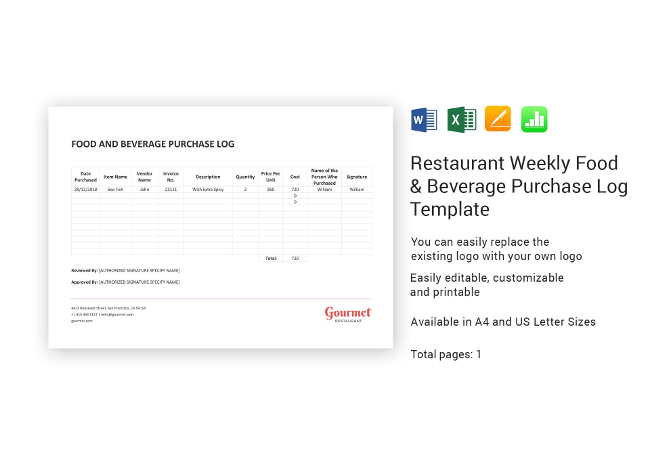 Download Now
This summarizes your hourly restaurant tracking form for food & beverage log sheet. This data should be used as the source of your purchase inputs in the weekly prime cost workbook. This includes vendor's names, invoice numbers, dates, and breakout by food and beverage categories. Find food cost tracking template here.
Weekly Cash Flow Spreadsheet
Download Now
This worksheet will help you anticipate cash flow and cash requirements up to 13 weeks at a time. The cash flow statement accounts all possible cash inflows and outflows as well as the periodic timing of many of your cash expenses. The daily cash audit form can be quickly set up to track all your cash funds, including cash drawers, change funds, petty cash form and more.
Restaurant Schedule & Labor Cost
Download Now
The spreadsheet will help you calculate the cost to open a restaurant and schedule every labor hour to give you instant feedback of the costs associated with your scheduling decisions. This compares the labor expense of each scenario with your actual or projected sales to determine optimum employee scheduling for each day of the week.
Download Now
The spreadsheet does expense tracking and calculates a grand total for all expenses, as well as totals per expense category. Whether it is daily expense report or annual expense report, this spreadsheet will help you gain control over your purchases.
Download Now
Use a startup worksheet to plan your initial restaurant costing. This start up checklist and worksheet will help you to better identify, plan, and organize the many details and activities that take place during the planning and development of your restaurant.
Restaurant Budget Worksheet
Download Now
This worksheet is a tool that allows you to quickly enter your sales, cost percentages and other operating assumptions by period to efficiently prepare a comprehensive annual budget broken down into monthly reporting periods. Find our capital budget template, marketing budget template, monthly budget template here.
Menu and Recipe Cost Sheet Template
Download Now
The template is designed to help you prepare an accurate costing for all your menu items and recipes. You'll be needing food cost spreadsheet for tracking Month End Inventory. An investment of time and money in any recipe costing model has a payoff in food cost analysis.
Monthly Expenses Statement
Download Now
Your restaurant's monthly food expenses are determined by taking a monthly physical inventory of food stock, evaluating the inventory, and then adjusting the valuation to more accurately reflect the cost of food consumed.
Sales
In a restaurant business there are so many critical elements to track daily, hence, using spreadsheets is a mandatory component in restaurant management. Creating a daily sales report that breaks down sales in a variety of ways for example. You need to know how much revenue you take in each day, ideally broken down at least into food and beverage or, better yet, by category or even the individual dishes.
Download Now
This spreadsheet is designed to track sales and receipts data from your point of sale or cash register reports. The worksheet serves as your weekly planning guide. You can print it at the close of each day, and share with your key management staff. Find sales tracking template here.
Daily Sales & Deposits Plus Labor Summary
Download Now
Here, you have to add labor expenses to the sales report so you can monitor your daily labor costs as a percentage of sales. This report also accounts estimated employer tax expenses. It also monitors your daily labor expenses as compared to labor targets that you will choose.
Weekly Sales Projection Spreadsheet
Download Now
This is an easy to use tool to help project daily sales report and weekly sales report by day-part. The worksheet will auto calculate the sales totals as well as provide the daily percentage contribution. Use this tool in reverse to determine how many covers and/or check averages are required to generate specific total sales. Sales plan template here.
Daily Sales Tracking Spreadsheet
Download Now
The daily sales tracking spreadsheet gives you space to enter your daily sales over an entire year. This spreadsheet also displays the monthly total, average, maximum and minimum sales.
Download Now
Having a monthly sales report will display sales information per day of the specified month. The report is basically the list of sales information separated by the days in a particular month.
Inventory Management
Your restaurant business can keep its operations running smoothly by doing an inventory management. This will help you track each ingredient used in the dish. As the volume of business grows in a restaurant, inventory management becomes a crucial part of your restaurant operation. It allows you to control and organize each and every aspect of the stock, maintain a smooth flow of supply and also helps you boost your overall profit.
Download Now
This spreadsheet is designed for aspiring restaurateurs who need to keep better track of their inventory. The stock level of ingredients and dishes in this spreadsheet updates automatically based on your sales, purchasing and orders.
Download Now
The production spreadsheet can be used for tracking and scheduling production. The production sheet will help you structure your employees' workday.
Food & Beverage Inventory
Download Now
A food and beverage inventory works for a restaurant business as it monitors cost and quality of food and beverage deliveries. Communicating with chefs and managers who oversee food service processes based on the food service checklist is vital in this process.
Product Inventory Usage Report
Download Now
This worksheet is helpful when evaluating the actual vs. ideal usage of your key inventory products, typically your "Center of the Plate". These are items that represent the largest percentage of your food cost. These are most likely to be misused, wasted or even stolen, and are also relatively easy to track. The actual usage of each product is calculated based on beginning and ending inventory and purchases.
Analysis
Analysis in the restaurant industry makes it possible for owners and managers to make the correct and strategic decisions needed to overcome challenges before they cut into your profits too much. You should never take feedbacks for granted too. Analysis of feedback given will help you understand your customers better.
Menu Engineering & Profitability Workbook
Download Now
Use this workbook to assess the profitability of your menu items. You should review each category of your menu items based on the food cost, selling price and popularity. This is organized as a single file consisting of multiple linked worksheets to help you gain new and valuable insights on your menu items that will help you make better menu decisions.
Beverage Program Analysis Workbook
Download Now
This workbook includes three templates; one each for beer, wine and liquor. After entering each items cost, price and number sold, the spreadsheet will summarize the data and calculate what the ideal cost percentage should be for each.
Vendor Order Guide Workbook
Download Now
This workbook will make your food and beverage ordering as easy and efficient as possible. You only order what you need based on each item that was previously established "par level" and the current "on hand" list for each of your supplier. Each sheet maintains the entire week's order history for easy review.
Accounting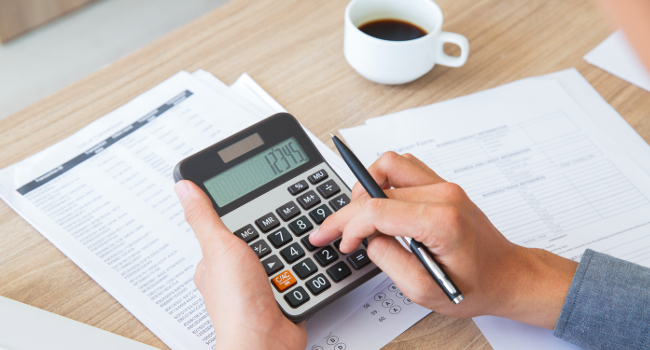 In a restaurant business, money comes in and goes out. Restaurant Accounting looks at this closely by recording, analyzing transaction patterns and dealing with common day to day operations like payroll and taxes. By properly monitoring this information and then studying it, accountants determine the viability of a restaurant business and the overall restaurant business health. Restaurant accounting softwares will help you keep track of the daily numbers, like sales, labor hours, tax collected and purchases.
Payroll Accrual Spreadsheet
Download Now
You will need this worksheet to efficiently calculate the accrued payroll of your staff. This includes wages, salaries, commissions, bonuses, and related payroll taxes and benefits that have been earned by a your employees, but have not yet been paid or recorded in the company's accounts. An employee payroll form is an important document that transmits information to the accounting department including the hiring of new employees, rate changes, terminations, and change of addresses. Get payroll budget template here
Download Now
This is a statement that displays your restaurant's total assets and how these assets are financed, whether through debt or equity. You can either have a monthly balance sheet or quarterly balance sheet to have a snapshot of your restaurant's business net worth.
Financial Forecast Worksheet
A financial forecast worksheet will help you estimate the amount of money you expect to flow in and out of your restaurant business. It also includes all your projected income and expenses. A financial forecast usually covers the next 12 months, however it can also cover a short-term period like a week or month.
You have to take charge of the critical areas where you have an opportunity to make a real difference to deliver bottom line profits. Be careful not to let all the critical financial information generated by your restaurant slip through just because you did not keep track. Find restaurant templates and documents here.